OFFSET DRIVESHAFT

DF70A in višje
OPIS
The engine powerhead is positioned closer to the front, moving the outboard's center of gravity forward.
PREDNOSTI
Less vibration
More compact
Stable steering performance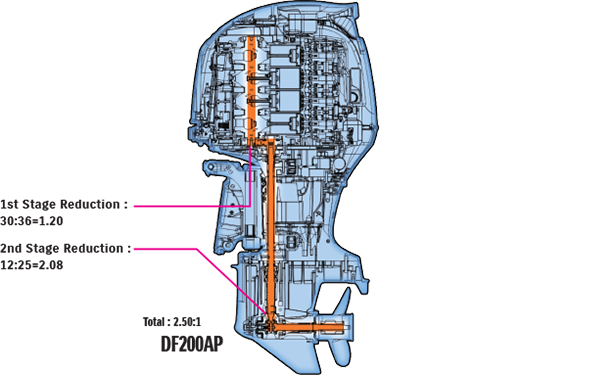 VVT (VARIABLE VALVE TIMING)

DF150A, DF150AP, DF175A, DF175AP, DF200A, DF200AP, DF250, DF250AP, DF300AP, DF350A
OPIS
The Variable Valve Timing is used to control the open and close timing on the intake valve depending on the engine operation.
PREDNOSTI
Offers smooth, powerful torque.
Provides tremendous acceleration during operation for all speed ranges.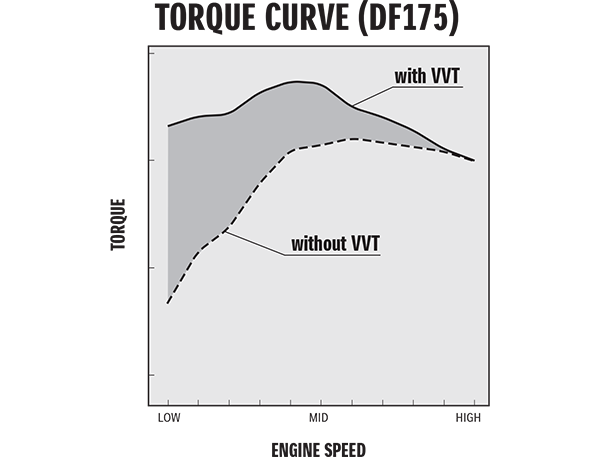 DIRECT AIR INTAKE

DF25/30A, DF350A
OPIS
Designing a direct airflow path from the intake port to the cylinder suppresses any increase in the intake temperature and improves combustion efficiency.
PREDNOSTI
Delivers higher power output from a small displacement with improved combustion efficiency.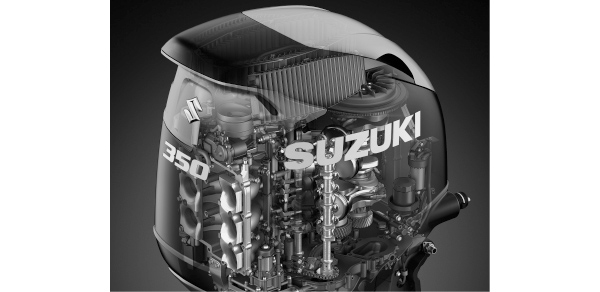 HIGH ENERGY ROTATION

DF60AV, DF50AV
OPIS
These outboards are equipped with gears designed with a 2.42 gear ratio, which is larger than the standard model, in their lower units.
When combined with a large 14-inch (36cm) propeller, the powerful system can deliver an explosive forward thrust.
PREDNOSTI
Powerful navigation and precise maneuvering even with big loads.
Tremendous power to turn large diameter propellers, offering quick acceleration.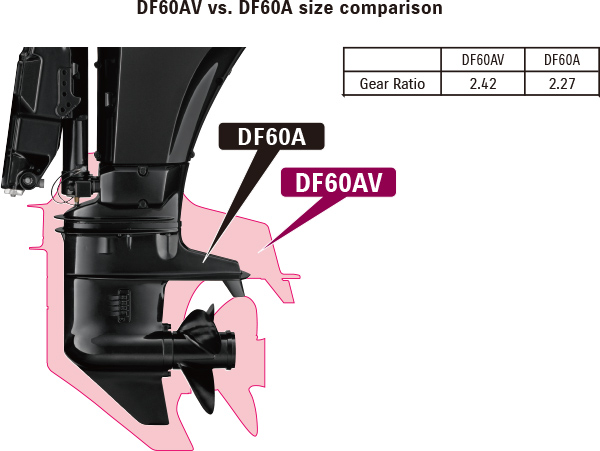 MULTI-STAGE INDUCTION

DF150, DF150AP, DF175, DF175AP, DF200A, DF200AP, DF225, DF250
OPIS
Manifold pipes are switched between short and long ones during low speed and high speed operation to ensure the right volume of air enters the engine.
PREDNOSTI
Increases output during high speed operation with greater volume of air input.
Increases combustion efficiency and maximizes torque by increasing the density in the air intake during low speed operation.
2-STAGE GEAR REDUCTION

DF70A AND UP
OPIS
This system which incorporates the Offset Driveshaft features a first stage reduction between the crankshaft and drive shaft, and a second stage reduction inside the gear case. This design makes a larger gear ratio possible, allowing it to turn a large diameter propeller.
PREDNOSTI
High propulsive efficiency with large diameter propeller.
Powerful navigation, maintaining propeller rotation even with a larger load.
Tremendous power to turn large diameter propellers, offering quick acceleration.